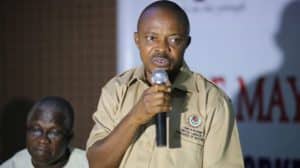 The Nigeria Labour Congress (NLC) has given the Federal Government an ultimatum till Friday to meet their demands or risk them embarking on strike.
The warning came after the Federal Government met with leaders of the organised union and pleaded for more time to address their grievances.
The leadership of the union accused the Federal Government of getting more than enough time to address its demands.
Some of the demands include wage awards, tax exemptions and allowances to public sector workers, reduction of cost of governance, provision of Compressed Natural Gas, CNG, buses, the release of modalities for N70 billion for Small and Medium Enterprises, SMEs, the release of officials of the National Union of Road Transport Workers, NURTW, by the police and vacation of occupation of Police-backed interlopers, among others.
One of the leaders of NLC at the meeting informed Vanguard that among others, the President of NLC, Joe Ajaero, pointed out that the 21-day ultimatum would expire in a few days and hoped the government met the union's demands before then.
The source said, "Precisely, our 21-day ultimatum will expire this Friday, September 22. Recall that we issued the ultimatum on September 1, 2023. So, Comrade Ajaero has made that point clear, that the government has up till Friday to address our demands or risk another round of industrial unrest.
"He cited the National Union of Road Transport Workers, NURTW, quagmire and asked that the Police and Federal government be called to order to give respite to the union.
"The NURTW issue is within the purview of the Federal Ministry of Labour and Employment, FMLE, which the ministry can immediately resolve.
"At the closed-door meeting, after the recess, when the Minister of Labour, Simon Lalong, who initiated the meeting, called on NLC to give the government more time to address our demands, Ajaero responded that nobody can accuse the congress of not giving the government reasonable time because we have given more than enough time to the government to act.
"It is not fair to ask us to give the government a reasonable period when we have already done so. He urged the minister to expedite action within the remaining days of the ultimatum.
"He informed the minister that it is impossible for the congress to leave the meeting without achieving some of our objectives. We will not tell Nigerians that what we got is that we should give the government reasonable time.
"So, it is up to the government to meet our demands before Friday. After Friday, NLC will take any industrial action it deems appropriate to respond to the demand of the time."
The post 'You Have Till Friday To Meet Our Demands' – NLC Tells FG appeared first on Naija News.
Go to Source
Author: Enioluwa Adeniyi