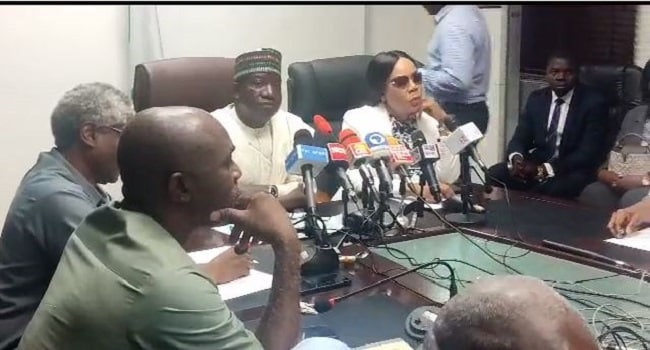 The Minister of Labour and Employment, Simon Lalong on Monday disclosed that the Federal Government and the Nigeria Labour Congress (NLC) have agreed to continue talks over subsidy removal palliatives.
According to Lalong, NLC and FG resolved to find solutions to key demands tabled before the government by organised labour before the deadline.
Lalong disclosed this while addressing newsmen at the end of a closed-door meeting with the NLC on Monday in Abuja.
Naija News understands that the minister called for the meeting to avert labour's planned strike and other issues.
NLC had threatened to embark on strike from September 21, over untold hardship on the masses due to the removal of fuel subsidy.
Speaking on the outcome of the meeting, Lalong said, "We had a fruitful discussion on many of the items, that the NLC had been tabled previously before the Federal Government.
"Many of the items presented by Labour were still under consideration before the final agreement."
The minister further stated that the Federal Government is committed to addressing the concerns of workers as raised by the NLC.
He noted that the government acknowledged the valid grievances that had fuelled the recent crisis and is committed to addressing the issues in a just equitable manner.
He also urged the NLC to consider the economic reality of the nation, as they take action in ensuring the wellbeing of workers.
Lalong added, "As we address the concerns of our workforce, we must be mindful of striking a balance that promotes economic growth and secures sustainable progress for our nation.
"Today, I call upon each one of you to join hands in an open-minded and constructive dialogue.
"This will enable us to bridge any gaps that may exist between the interests of workers and the ultimate goal of driving economic advancement."
The NLC president, Joe Ajaero noted that both parties have agreed to continue to deliberate to arrive at a meaningful agreement before the ultimatum ends.
According to Ajaero, we equally discussed frankly the issue bordering the coup floated and executed by the Nigeria Police against the National Union of Road Transport Workers.
He said, "That has led to the detention of their democratically elected national officers and both parties agreed to show concern towards the resolution of the matter.
"On the other issue, you can see that there is no agreement or implementation on any. There is no CNG anywhere.
"Refineries are not working. No agreement on wage awards. Those are the issues we believe that something will happen before the ultimatum expires. It is possible that something will happen.
"We had a convivial deliberation with the minister and we hope that even if it is remaining one day we will get to the root of all these problems."
The post Planned Strike: Lalong Speaks On Outcome Of Meeting With NLC appeared first on Naija News.
Go to Source
Author: Enioluwa Adeniyi