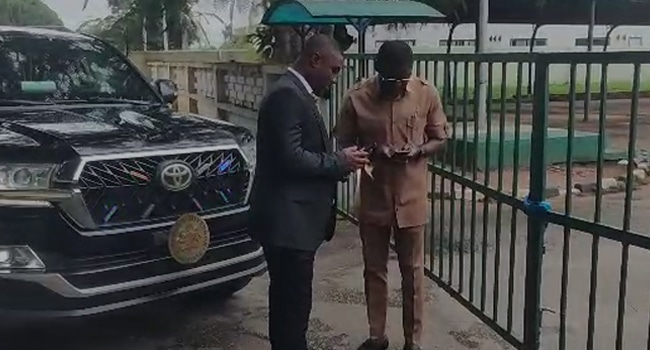 The video of the Deputy Governor of Edo State, Philip Shaibu, being denied access to his old office at the Government House in Benin, the state capital, has emerged.
In the video posted by Channels Television, the deputy governor arrived at the Government House on Monday but met the gate leading to his office locked by security officials.
Shaibu, while on a phone call with a yet-to-be-identified person, said he had not received an official letter from the office of the governor on the relocation of his office.
The embattled deputy governor further stated that the proper channel to transmit a directive pertaining to the relocation to a new office is the Governor's office.
He said: "Up till now, I don't have any official communication that I should relocate. The only people that have official communication are my civil servants. The civil servants have official communication, but I don't. As I am speaking to you now, I am standing by the gate."
Naija News reports that the development is the latest in the tussle between Shaibu and his principal, Governor Godwin Obaseki, ahead of the governorship election in the state.
Watch the video below.
The post Video Of Shaibu Being Denied Access To Edo Govt Office Emerges appeared first on Naija News.
Go to Source
Author: Olugbenga Ige