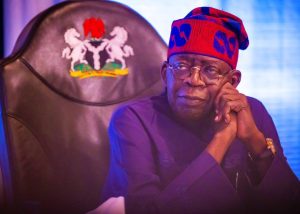 A civil society organization, the Human Rights Writers Association of Nigeria (HURIWA), has said that President Bola Ahmed Tinubu is following the path of his predecessor, Muhammadu Buhari, by giving key appointments to people from the South-West and Lagosians.
The rights group accused the Nigerian leader of nepotism, asserting that major positions in his government were allotted to citizens from his ethnic group.
HURIWA acknowledged that President Tinubu's appointment of new Service Chiefs gave hope to Nigerians and drew deserved plaudits in that the portfolios given recognised the nation's diversity.
The group, however, said Tinubu's subsequent appointments have departed from that template.
"That the disastrous, previous administration of General Muhammadu Buhari (rtd) towed a visionless, divisive path, in the overwhelming tribalistic appointments it made, should never excuse this course that fundamentally degrades the legitimate dream of a new, progressive, inclusive Nigerian state," HURIWA said warning Tinubu not to follow Buhari's style of appointment in his eight years in power.
Naija News reports that the rights group admonished the Nigerian leader in a statement issued on Monday by its coordinator, Emmanuel Onwubikor, while reacting to the recent appointments of the Governor of the Central Bank of Nigeria and the Chairman of the Federal Inland Revenue Service given to Yoruba people are an attestation.
"With President Bola Ahmed Tinubu's recent approval of the nomination of Olayemi Cardoso to serve as the substantive new Governor of the Central Bank of Nigeria (CBN), some 48 hours after appointing Zacchaeus Adedeji as the acting chairman of the Federal Inland Revenue Service, FIRS, the strong perception that the President is pushing an unseemly pro-ethnic agenda became worryingly stronger," the group said.
It added: "Adedeji is to "serve in an acting capacity for 90 days before his subsequent confirmation as the substantive chairman of FIRS for a term of four years in the first instance.
"With a little over 100 days on the saddle, the President's appointments have shown he appears to have special consideration for people from his South-West region, especially those with links to Lagos State."
"Today, the stakes are extremely high, and Nigerians are mindful that a failure to achieve democratic stability, through a meritorious, transparent, inclusive governance process may imperil the country's future as a coherent state. Mere political rewards and seeming ethnic nationalism should not drive the national journey. It is a perilous, avoidable option.
"The Human Rights Writers' Association of Nigeria (HURIWA), strongly believes that this is the wrong path to thread, especially against the background of deep mistrust, misery, and political and economic dislocations brazenly birthed by the predecessor administration. We believe that, like Caesar's Wife, the Tinubu administration ought to be above suspicion.
"We recall here that the central driving mantra and foundational philosophy on which the ruling All Progressives Congress sold its presidential candidate Asiwaju Bola Ahmed Tinubu, now President, to Nigerians, was "Renewed Hope." Nigerians bought into it and voted the Asiwaju and APC to power because it deeply resonated with the populace. But what is the reality?
"Key appointments traversing the nation's crucial security, judicial and economic sectors are now unabashedly cornered by the South-West region. A quick, non-exhaustive check-list would include Petroleum Minister: Bola Tinubu; Chief of Staff: Femi Gbajabiamila; Minister of Justice: Lateef Fagbemi; Minister of Finance and the Coordinating Minister of the Economy, Mr. Wale Edun; Acting Governor of the Central Bank of Nigeria (CBN), Mr. Folashodun Shonubi who now gives way to a substantive CBN boss Olayemi Cardoso.
"Others include: Minister of Marine & Blue Economy: Bunmi Tunji-Ojo; Minister of Communication, Innovation & Digital Economy: Bosun Tijan; simultaneously, the Chairman of Senate Committee on ICT, Afolabi Salisu, and that of House of Representatives, Adedeji Olajide Odidiomo are both from the South-West; Minister of Power: Adebayo Adelabu; Minister of Transport: Adegboyega Oyetola; Minister of Solid Minerals: Dele Alake; Chief of Army Staff: General Taoreed Lagbaja; Police IG: Kayode Egbetokun; Comptroller-General Customs: Adewale Adeniyi; Comptroller-General Immigration: Adepoju Carol Wura-Ola; FIRS Chairman: Zacchaeus. Adedeji, et cetera."
Tinubu Must Deviate From Sectional Appointment
Also, the National Publicity Secretary of the apex Northern socio-cultural and political organization, the Arewa Consultative Forum (ACF), Professor Tukur Muhammad-Baba, knocked Tinubu for giving sensitive and lucrative appointments to persons from the Southwest part.
Muhammad-Baba, a professor of Sociology, said this in an interview with New Telegraph and maintained that he spoke in his personal capacity because the Northern group had yet to deliberate on the issue, describing the appointments so far as should not be encouraged in a "deeply fractious federation" like Nigeria.
The ACF spokesman also berated the immediate past administration of Buhari for also indulging in sectional appointments but added that it is not an excuse as someone has to break the circle of such appointments.
Muhammad-Baba said, "From all indications, most, if not all, sensitive or "lucrative" assignments are being given to persons of Southwest extraction.
"It's not ideal in a deeply fractious federation like ours. But the Constitution gives absolute power to the President to make such appointments. A part of the Constitution directs that such appointments must reflect the social diversity of the country in terms of "balancing" of place of origin, indigeneship, ethnicity, religion, etc."
The post Tinubu Giving Key Appointments To South-West, Lagosians – Rights Group Fumes appeared first on Naija News.
Go to Source
Author: Richard Ogunsile