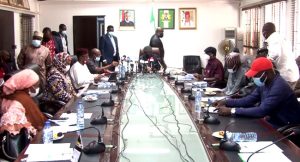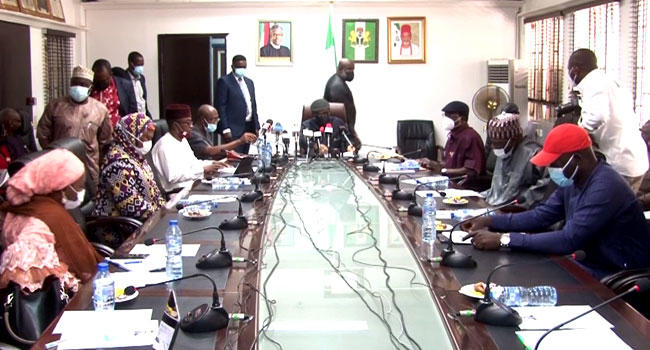 Some members of the Nigeria Labour Congress (NLC) have begun arriving at the venue of the meeting with the Federal Government over the union's planned strike due to subsidy removal and a hike in the cost of living.
Naija News reports that the meeting is taking place inside the Conference Hall of the Federal Ministry of Labour and Employment, in Abuja.
Journalists were already at the venue of the meeting, but leaders of the organised labour or Federal Government representatives were yet to arrive at the meeting.
While the meeting, aimed at halting organised labour's planned strike over fuel subsidy removal and the attendant hardship in the country, was scheduled for 11 a.m., it was later moved to 1 p.m.
The press was later informed that the meeting had been moved, while the Minister of Labour and Employment, Simon Lalong, was sighted in his office ahead of the meeting.
This is the second meeting in recent times after the Nigeria Labour Congress (NLC) suspended its two-day warning strike two weeks ago.
The NLC boycotted the first meeting, but members of the Trade Union Congress (TUC) attended even though its leadership said they were open to discussions with the government.
The NLC and the TUC are protesting the harsh effects of the fuel subsidy removal.
They are asking the Federal Government to implement their recommendations which, among other things, include the payment of a new minimum wage for workers, provision of Compressed Natural Gas (CNG) and their conversion centres as alternatives to petrol as well as the payment of all withheld salaries for university lecturers.
The NLC has threatened to embark on an indefinite strike should the government fail to address its demands.
The post NLC Members Arrive For Meeting With Tinubu Govt (Video) appeared first on Naija News.
Go to Source
Author: Olugbenga Ige