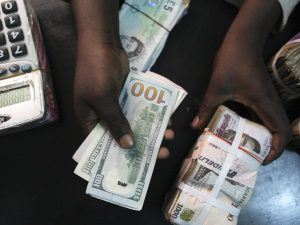 What is the Dollar to Naira Exchange rate at the black market also known as the parallel market (Aboki fx)? See the black market Dollar to Naira exchange rate for 17th September below. You can swap your dollar for Naira at these rates.
How much is a dollar to naira today in the black market?
Dollar to naira exchange rate today black market (Aboki dollar rate):
The exchange rate for a dollar to naira at Lagos Parallel Market (Black Market) players buy a dollar for N955 and sell at N960 on Sunday, 17th September 2023, according to sources at Bureau De Change (BDC).
Please note that the Central Bank of Nigeria (CBN) does not recognize the parallel market (black market), as it has directed individuals who want to engage in Forex to approach their respective banks.
Dollar to Naira Black Market Rate Today
| | |
| --- | --- |
| Dollar to Naira (USD to NGN) | Black Market Exchange Rate Today |
| Buying Rate | N955 |
| Selling Rate | N960 |
Please note that the rates you buy or sell forex may be different from what is captured in this article because prices vary.
Data obtained from the Organization of the Petroleum Exporting Countries (OPEC) has shown that Nigeria's oil production for August rose to 1.1 million barrels per day from 1 million b/d in July.
Oil price climbed to $92.28 per barrel early Wednesday, but Nigeria would not be maximising the rise as it continues to produce below its Organisation of the Petroleum Exporting Countries' quota.
Brent Crude was sold for $91 on Tuesday, but rose on the back of renewed pledge by Saudi Arabia and Russia to further cut their output by 1.3 million barrels until the end of the year.
The Nigerian Upstream Petroleum Regulatory Commission also recently put the country's production for August at 1.4mb/d, including condensate of 400,000b/d.
Although the country's oil reserves are estimated at 38bb/d, it has been unable to increase its daily oil production due to crude oil theft.
The post Naira To Dollar Black Market Rate Today 18th September 2023 appeared first on Naija News.
Go to Source
Author: George Oshogwe Ogbolu