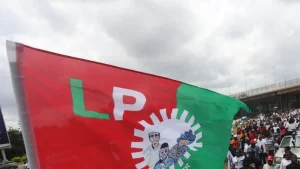 The Labour Party (LP) has said the proposed pay raise for President Bola Tinubu and other public office holders was unacceptable and unjustifiable.
Naija News reported that the Chairman of the Revenue Mobilisation Allocation and Fiscal Commission (RMAFC), Muhammed Shehu, had said the salaries of politicians, judicial and public office holders would be increased by 114 per cent.
Speaking with newsmen on Sunday, Shehu clarified that the review had been postponed due to economic challenges, adding that the salary of President Tinubu is less than N1.5 million, while ministers earn less than N1 million.
Reacting to the development, the LP Spokesman, Obiora Ifoh, said the Commission is proposing to increase the pay of public officers when the labour union is demanding living wages without a positive response.
Ifoh said it was sad that the Bola Tinubu administration, which was preaching to Nigerians to embrace belt-tightening measures and calling for patience, was the same administration pushing for increases in the perks of office for political office holders.
He said: "This is happening at a time when ordinary Nigerians, especially hard-working citizens under the umbrella of the Nigeria Labour Congress and the Trade Union Congress, are demanding living wages without a positive response.
"This is also at a time when the ill-conceived and ill-timed removal of fuel subsidy has increased hardship among ordinary Nigerians.
"We should be talking about improving the quality of lives of ordinary Nigerians and cutting waste in government."
The post Jumbo Pay For Tinubu, Ministers, NASS Members Unjustifable – LP appeared first on Naija News.
Go to Source
Author: Olugbenga Ige