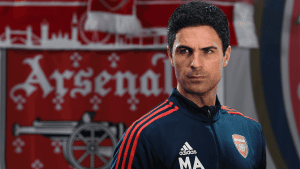 Mikel Arteta will lead Arsenal to their first UEFA Champions League game in 6 years on Wednesday, September 20, against PSV Eindhoven at a time concerns are being raised about some of his recent decisions.
One of the most controversial decisions that coach Arteta has made recently was dropping his first-choice goalkeeper Aaron Ramsdale for his new signing David Raya against Everton on Sunday.
Interestingly, the absence of the English goalkeeper helped Arsenal to beat Everton at the Goodison Park for the first time since 2017 and David Raya managed to keep a clean sheet in the 1-0 victory.
Ahead of Arsenal's group stage opener against PSV, British press questioned the Spanish tactician about the rationale for dropping Ramsdale who played the entire 38 Premier League games for Arsenal last season.
"It's the same rationale that Fabio [Vieira] played here or Eddie [Nketiah] played instead of Gabriel Jesus," coach Mikel Arteta said.
"I haven't had a single question on why Gabriel Jesus hasn't started and he's won more trophies than anyone, including me, in that dressing room.
"I cannot have two players like this in one position and not play them. David has tremendous qualities like Aaron has, like Karl [Hein] has, but we have to use them you know."
After their UEFA Champions League group stage opener against PSV Eindhoven at the Emirates Stadium on Wednesday, Arsenal will return to Premier League duties on Sunday against Tottenham Hotspur.
The post Arsenal Vs PSV: Mike Arteta Comments On Dropping Ramsdale For Raya appeared first on Naija News.
Go to Source
Author: Ernest Victor