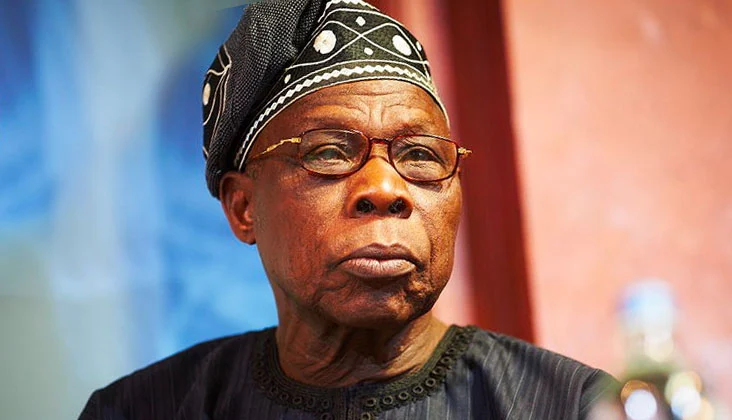 The Yoruba Council Worldwide (YCW) has berated former President, Olusegun Obasanjo for disrespecting traditional rulers in Oyo State at a recent project inauguration.
The YCW President, Oladotun Hassan, made the development known on Saturday during a press conference held at the secretariat of the Nigeria Union Of Journalists (NUJ) in Jabi, Abuja.
Naija News reported that Obasanjo had ordered the monarchs to get up to greet Oyo State Governor, Seyi Makinde, during the commissioning of the Iseyin Campus of the College of Agricultural Sciences and Renewable Natural Resources of the Ladoke Akintola University of Technology, Iseyin.
Obasanjo, a special guest of honour at the event, expressed dismay over the behaviour of the kings, describing it as 'disrespectful' toward the governor's office and himself when they were being introduced and the monarchs were seated.
During the press conference, Hassan described as sacrilegious Obasanjo's ordering of traditional rulers in Oyo State to stand and greet him and Governor Makinde.
Hassan said the development was depressing, disparaging and disrespectful to the Yoruba people, and urged Obasanjo to apologise or face untold traditional and legal consequences.
He said, "The recent weeks have witnessed a barrage of monumental embarrassments,  ridicules and brazen abuse of traditional royal Obas and most shocking to grasping with this well-intended orchestrated embarrassments by Chief Olusegun Obasanjo who dropped the biggest bombshell taboo in the history of Yoruba land, perhaps most disturbing sacrilege in Iseyin, Oyo State when he addressed arrays of first-class royal fathers and other leading Obas like toddlers or a village headmaster or Army General talking profusely at his foot soldiers in a most depressing, disparaging and disrespectful manner.
"Chief Olusegun Obasanjo has since left the corridors of honour, while we reiterate as the leading vanguard voice for all Yoruba indigenous people globally, we have eternal duty to preserve the aesthetic distinct  Omoluabi ethos, royal stools and ancestral customs and traditions of the Yoruba Obaship, precipitating our demand for immediate apologies by Chief Olusegun Obasanjo within the next three days or face untold traditional and legal reprisal consequences, not limited to filing action at a court of competent jurisdiction for defamation and scandalous libel, while we shall call for stripping him off of all chieftaincy titles conferred on him by any Yoruba monarchs.
"Furthermore, we shall mobilize all market women, youths and leaders of thoughts against the Baba Obasanjo for desecrating the Yoruba ancestral cultural heritage, norms, traditions and values. On this note, we wish to set the records straight that Chief Olusegun Obasanjo is NO longer the President of Nigeria, and he should stop parading himself deceitfully and impersonating or creating a scenario to command such ill-motivated authority."
The post 'You Must Apologize To Our Obas' – Yoruba Council Knocks Obasanjo appeared first on Naija News.
Go to Source
Author: Olugbenga Ige