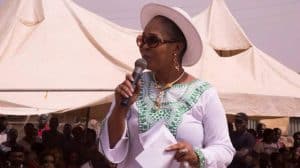 The Minister for Women Affairs, Uju Kennedy-Ohanenye, has apologised to those offended by her comments in a viral audio, where she was caught threatening a female student of the University of Calabar (UNICAL).
Recall that students of the Faculty of Law had carried out a peaceful protest alleging that Prof Cyril Ndifon was sexually molesting them, while over 15 victims of the said allegations said they were willing to testify against the suspended Dean in court.
Following the female students' allegations, the Management of the University of Calabar suspended Prof Ndifon for alleged violation of the provisions of the extant laws and policies of the institution.
Naija News reports that a leaked audio message had gone viral where the Minister of Women Affairs was caught threatening one of the female students with jail, asking her to keep off the case.
In a statement issued by her Director of Press and Publicity, Olujimi Oyetomi, the Minister reaffirmed her commitment to defending and advancing the rights and welfare of Nigerian women, including the pursuit of justice when these rights are violated.
She emphasised her unwavering dedication to upholding due diligence and the rule of law, recognizing that justice and fairness are the fundamental principles upon which equitable societies are built.
She stated: "I wish to express my sincere apologies to those who were offended by my comments and actions regarding the sexual harassment scandal at the University of Calabar. This is extremely regrettable as my intentions were sincere and aligned with my consistent advocacy for the welfare of Nigerian women and the pursuit of justice.
"I stand for all Nigerian women, and I stand for justice; and it is my hope that we can work together to actualize the dream of a country where women's rights are respected and protected and where our daughters feel safe in institutions of learning."
Kennedy-Ohanenye also expressed deep concern over the escalating cases of sexual harassment across campuses and emphasised the need for decisive action, assuring that her Ministry would actively seek justice for those affected.
Full text of what the minister said as recorded in the audio:
"If your VC makes you to go and lie against somebody, you will go to jail, trust me. I want you to be very careful because your future is at stake. You can't join anybody and maltreat a fellow human being, and equally nobody wants you to be maltreated. The day I spoke with you, I recorded what you spoke and you told me the whole truth. I have contacted your VC, I don't know what her plans are, I don't want to quote anybody, I don't equally want to condemn anybody or judge anybody. But I want you to be very careful because this thing is going to prove fire. If I were you, as you have already said to me, nobody raped you, nobody sexually harassed you, keep off from this case if I were you. But if she makes you to go there, she is recording whatever you people are saying in that panel and if she records you and I bring my own and get you contradicted and this man has gone to court, my ministry will join them and make you go to jail so that you will be an example to others. So I want you to be very, very careful. You are telling me if your VC permits you before you can come and see me, there is nothing she can do to you, she is not the one paying your school fees. So face your future by standing on the truth at all times. Save my my number, when you have time to visit me, I will find a way to empower you people so that your life will be easier for you. I am a minister, I am above her by position, you know that. So don't go and do anything that will put you into a very big trouble that will scandalise you in the whole world because this matter has gone far and beyond. Now, I won't play what you people said to me except when you people try to deny it, that is when I will play it. I will conceal it because it's something you told me in confidence. So, I am warning you to keep off from lying against anybody."
The post Sex Scandal: Tinubu's Minister Apologises For Threatening UNICAL Female Student appeared first on Naija News.
Go to Source
Author: George Oshogwe Ogbolu