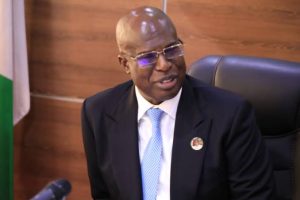 A Former Minister of State for Petroleum Resources and governorship candidate of the All Progressives Congress (APC) in Bayelsa State, Timipre Sylva has claimed that Governor Douye Diri has sent spies to monitor his movement.
Sylva made the allegation via a statement signed by his Special Adviser, Media and Publicity, Julius Bokoru, on Sunday.
Bokoru stated that there were credible intelligence available which indicates that spies are working in the state.
He alleged that the spies have been asked to document and report the movements of his principal to some off-grid security architecture in the state.
The former minister called on the public to take note of the governor's strategy of violence against him and the people of Bayelsa with special focus on Opu-Nembe.
He claimed the spy activities were being coordinated by a close security aide to Diri with the aim of compromising his convoy.
The statement said, "Credible reports available to H.E Chief Timipre Sylva, governorship candidate of the APC in Bayelsa State suggests that Governor Douye Diri has commissioned spies across the state, especially at the Bayelsa International Cargo Airport, to document and report Chief Sylva's movements in Bayelsa and environs to some off-grid security architecture in the state.
"This desperate, illegitimate security operation is headed by a close security aide to Governor Diri and the end game, as is known, is to compromise the convoy and security of Chief Sylva.
"This is to alert the general public and especially the security agencies across the nation to take note of Governor Diri's strategy of violence against Sylva and the Bayelsa people with a special focus being Opu-Nembe.
"A serving governor's chief campaign strategy, naturally, was to reel out achievements and milestones, not investing in an orgy of violence. Diri should be commissioning projects, not commissioning spies. "Sylva's push to Creek Haven is an act of liberation and Bayelsans are massively aligned."
The post Diri Sent Spies To Monitor My Movement – Sylva Cries Out appeared first on Naija News.
Go to Source
Author: Justina Otio