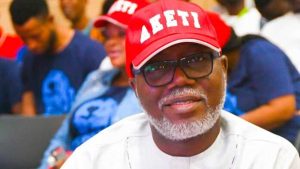 The Ondo State House of Assembly has denied media reports that it is making a move to impeach the Deputy Governor, Lucky Aiyedatiwa.
Speaking in a chat with The Nation on Saturday, the Majority Leader of the Assembly, Hon West Ogunmolasuyi, said the chamber does not have any plan to impeach the deputy governor.
Ogunmolasuyi added that the Assembly was not in possession of any resignation letter purportedly signed by Aiyedatiwa, saying that the lawmakers were concerned about proving good governance for the populace.
The lawmaker said the Assembly would focus on carrying out over-sight functions and other activities that would bring prosperity to the state.
He said, "We are not aware of any letter about the resignation of the Deputy Governor. Nobody is plotting any move to impeach the Deputy Governor.
"We are busy with what will bring development to the state. What is of importance to us is to carry out our oversight functions."
Ondo Deputy Gov, Aiyedatiwa Speaks On His Commitment To Akeredolu
Recall that the deputy governor had expressed his commitment to his principal, Governor Rotimi Akeredolu.
Aiyedatiwa, in a statement released through his media aide, Kennet Odusola-Stevenson, described reports making rounds about his purported disloyalty to Akeredolu as lies.
In the statement titled, 'The fabricated lies against the deputy governor of Ondo State: the blackmailers are at it again', Aiyedatiwa claimed that the allegations were aimed at causing disaffection between him and his boss.
According to the statement, the reports were spread by some faceless groups and individuals in the state to soil his image for political reasons.
The post Ondo Assembly Speaks On Plans To Impeach Deputy Governor appeared first on Naija News.
Go to Source
Author: Olugbenga Ige