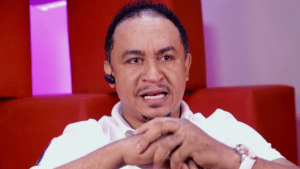 Nigerian media personality, Daddy Freeze, has made a mockery of the Labour Party (LP) presidential candidate in the last election, Peter Obi, over the accusation of rigging.
Naija News reported that a witness for Atiku Abubakar, the Peoples Democratic Party's presidential candidate in the February 25th elections, claimed that "magic" was performed on Abubakar's votes at several collation centers.
The witness, Ndubuisi Nwobu, suggested that the Labour Party's candidate, Peter Obi, rigged the election in Anambra state.
According to the results announced by the Independent Electoral Commission, Obi won Anambra state with 584,621 votes.
In contrast, Atiku Abubakar received 9,036 votes, and Bola Tinubu of the All Progressives Congress secured 5,111 votes.
Nwobu, who serves as the Anambra PDP chairman and the party's state collation agent, testified before the presidential election tribunal on Wednesday.
He alleged that after counting the votes, presiding officers did not upload the results.
Although he visited roughly 30 of the state's 4,720 polling units on election day, Nwobu claimed he was compelled to sign the election's result sheet at the state collation centre.
In a post via his Instagram page, Daddy Freeze questioned who owns the stolen mandate Peter Obi had always claimed.
He added that the Africa Action Congress (AAC) presidential candidate, Omoyele Sowore, seemed to be the only person who didn't rig the 2023 election.
He wrote: "So who now has the stolen mandate???? Be like say na only @yelesho no rig for this election o..🤣🤣"
The post Daddy Freeze Reacts As Witness Accuses Peter Obi Of Rigging Out Atiku In Anambra appeared first on Naija News.
Go to Source
Author: Rachel Okporu Fadoju