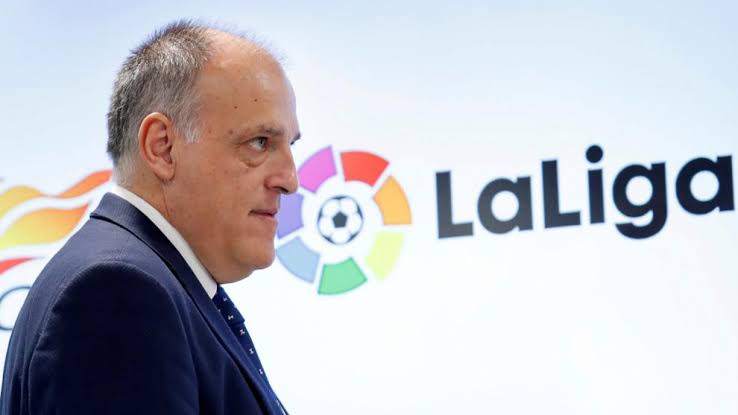 The president of Spanish LaLiga, Javier Tebas, claimed that incidents of racism could be cut in half within six to seven months if the league body had the needed legal authority to punish offenders.
The Spanish league has requested more power to prosecute racists following the racial attacks targeted against Real Madrid striker Vinicius Junior during a league game against Valencia on Sunday.
Vinicius has been a target of multiple incidents of racial abuse this season despite the countless number of times he had come out to agitate against the trend.
The 22-year-old Brazilian winger received special support from the football community during Wednesday's match between Real Madrid and Rayo Vallecano in response to the most recent racial attacks.
According to Tebas, there have been nine reports of Vinicius-specific racial abuse in the outgoing 2022-2023 season alone.
Spanish law only permits LaLiga to find and report crimes, not to punish them, a law Tebas and other football stakeholders in Spain believe is a limitation in the fight against racism.
"We are convinced that if we had those powers, within months we would get rid of this problem," the LaLiga president told the BBC.
"At least we would improve it considerably in general and specifically in the case of Vinicius. But if we don't have the powers, all we can do is file complaints."
The football administrator added: "We want powers, we don't want to hide on the issue of racist insults.
"It's not enough for us only to be able to file complaints, we want to be able to punish anyone who shouts racist insults.
"We will keep trying to make sure nobody in any stadium shouts racist insults.
"Eliminating this problem 100% will never be possible. In the same way that totally eliminating robberies and other crimes is impossible but we would reduce it a great deal and, if we were given the necessary powers, in six or seven months we could say that we don't have racism."
The post LaLiga President Reveals How Racism Can Be Cut Down In Spain appeared first on Naija News.
Go to Source
Author: Ernest Victor