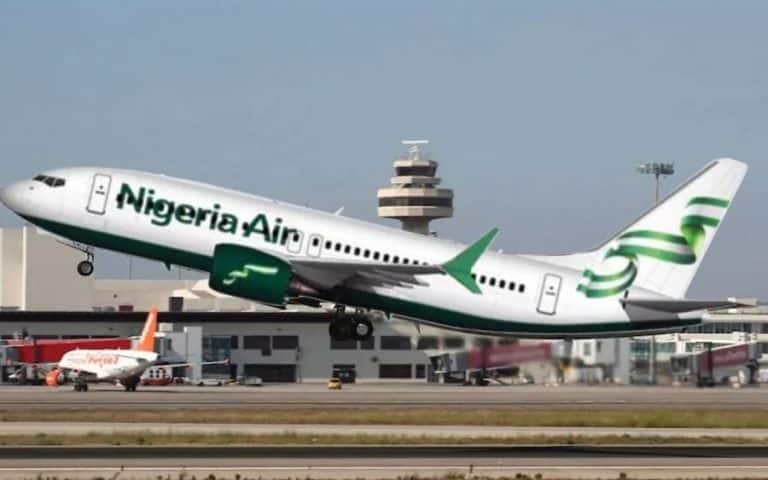 In a recent revelation, the Boeing 737-800 series aircraft that the Federal Government presented in Abuja for the unveiling of Nigeria Air belongs to Ethiopian Airlines, as confirmed by Daily Trust.
The aircraft, having departed from Addis Ababa, Ethiopia, landed at the Nnamdi Azikiwe International Airport, Abuja, on Friday.
Minister of Aviation, Hadi Sirika, jubilantly greeted the aircraft's arrival, acknowledging the challenging path to the project's initiation.
The aircraft, with registration ET-APL, was subsequently revealed at the General Aviation Terminal of the Abuja airport.
Investigative checks revealed that Ethiopian Airlines is the rightful owner of the aircraft.
As evidence, ET-APL is inscribed on the wings of planes operated by Ethiopian Airlines.
Flight history records show that the aircraft served its original airline until the Sunday before its unveiling.
Prior to landing in Abuja, the aircraft had travelled from Addis Ababa to Tel Aviv in Israel.
Ethiopian Airlines holds a significant 49% stake in the Nigeria Air project, a structure which incited domestic airlines under the Airline Operators of Nigeria (AON) to file a lawsuit against the Federal Government.
The remaining ownership is divided between two Nigerian companies (46%) and the Federal Government (5%).
AON member airlines, including Azman Air, Air Peace, Max Air, Topbrass Aviation, and United Nigeria Airlines, contend that this partnership threatens their business, potentially opening their market to Ethiopian airlines.
These airlines are seeking up to N2 billion in damages for perceived "wrongful exclusion and unlawful bidding and selection processes" in the Nigeria Air project.
Although Minister Sirika had previously shared that the Nigerian Air aircraft would arrive in the country on Friday, he was silent on whether the aircraft was purchased specifically for the project.
Last year, he disclosed that the Federal Executive Council had approved the leasing of three aircraft for the carrier.
Chief Executive of Aero Contractors, Capt. Ado Sanusi offered a word of caution. He stated that the aircraft's arrival does not signal the immediate start of commercial operation, pointing out that regulatory approval from the Nigeria Civil Aviation Authority (NCAA) involves a rigorous process unlikely to be waived.
He further asserted that a quick launch of the airline within the next two days is practically impossible.
Sirika had previously announced the airline's launch at the Farnborough Air Show in the UK in 2017. He shared that the carrier had considered 81 potential destinations, including China and India.
The Minister has yet to respond to Daily Trust's inquiries regarding the findings that the aircraft belongs to Ethiopian Airlines.
The post REVEALED: Nigeria Air Plane Flown Into Abuja Belongs To Ethiopian Airlines appeared first on Naija News.
Go to Source
Author: Enioluwa Adeniyi