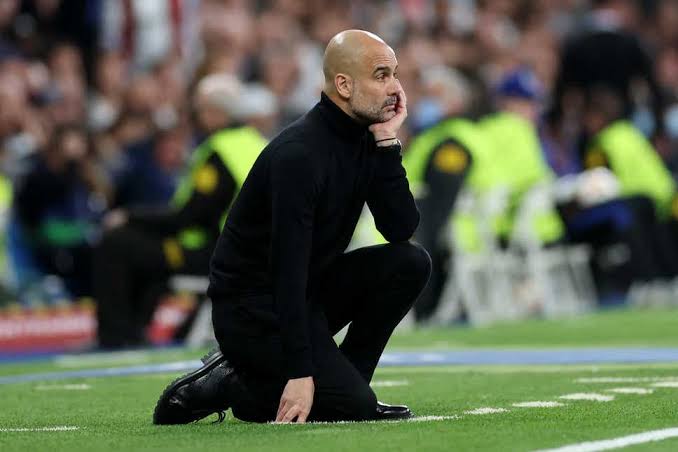 The manager of Manchester City, Pep Guardiola, has noted that he is not optimistic that racism would end anytime soon in his home country, Spain.
Pep Guardiola, who had played football at the highest level in Spain and coached FC Barcelona for four seasons, said Spanish La Liga ought to imitate the Premier League in how they swiftly tackle the issue of racism.
Guardiola's comments about racism in Spain are coming following racial attacks targeted at Real Madrid winger Vinicius Junior during a league game against Valencia last Sunday.
During the league game on May 21 which ended 1-0 in favour of relegation-threatened Valencia at Mestalla, Vinicius heard the monkey chants directed at him and threatened to leave the game.
He was however consoled to play on but was later shown a red card for an altercation with an opposing player which has been rescinded.
On the other hand, Valencia were fined €45,000, subjected to a partial stadium ban for five games, and three people were taken into custody in connection with the incident.
Spanish police have arrested at least seven people in connection to different racial attacks targeted at the 22-year-old Brazilian winger.
Ahead of Manchester City's last Premier League game of the season which is against Brentford on Sunday, Pep Guardiola was dragged into the racism debate.
When he was asked if La Liga has one or two things to learn from the Premier League on how to minimize racial attacks in football, the Spanish tactician said: "They should. Here they are so strict [on fighting racism]. They know what they have to do. This is a problem everywhere – thinking we are better than our neighbors, we are better than the other one.
"The problem is that there is racism everywhere. Not just for gender but for colour. Believing that our language is better than the other one, our country is better than the other one. We need to accept diversity like human beings – but right now, we are far away from that. Hopefully, we can get better in Spain but I'm not optimistic.
"There are a lot of black people stepping forward to defend what they should not [have to] defend."
The post Pep Guardiola Not Hopeful That Racism Will Improve In Spain appeared first on Naija News.
Go to Source
Author: Ernest Victor