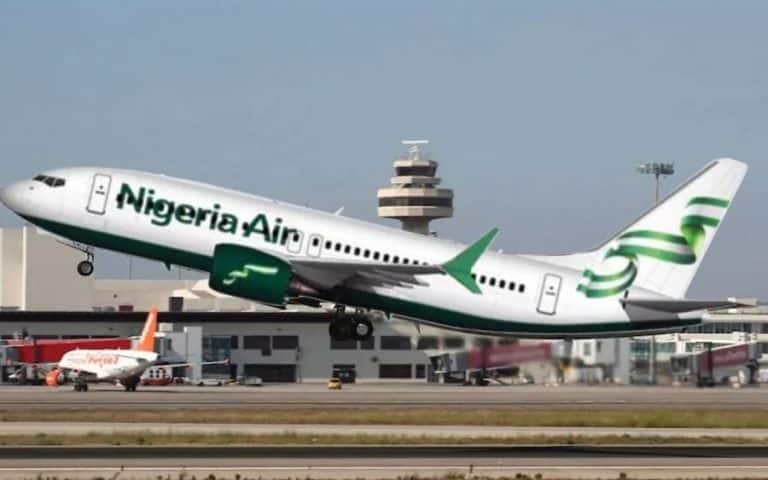 The Nigeria Air aircraft is about to embark on a journey to the Nnamdi Azikiwe Airport in Abuja as promised by the Muhammadu Buhari-led government ahead of the commencement of operations.
Naija News gathered that the national carrier, which is currently in Addis Ababa, Ethiopia, was unveiled in Nigeria's colours in fulfillment of all the promises made by the administration in the aviation sector.
Recall that the Minister of Aviation, Hadi Sirika, had on Wednesday said the plane will arrive in the country today as part of processes to commence operations and unveiling of the delivery process.
Sirika also said the national carrier will be unveiled by President Muhammadu Buhari before May 29 and will commence operations before the end of the Buhari government.
The minister, however, noted that the only incomplete item is the aerotropolis, which is the airport city and is 60 percent complete.
According to the minister, the groundwork has been completed, and are looking to conclude work on the airport city by the next administration.
He added that the Federal Government is leaving the aviation sector better than it met it having achieved over 90% of the aviation sector road map.
Watch the video below:
Nigeria Air Will Be A Game Changer – Garba Shehu
The Presidency has said Nigeria Air would be a game changer when it is eventually officially inaugurated despite being impeded by several challenges.
Speaking during an appearance on Channels Television's Sunrise Daily on Thursday, presidential spokesman, Garba Shehu said the project will be a game changer, especially for international travel.
Shehu said the Nigeria Air project was frustrated by a court case instituted by the domestic Nigerian airline operators, stressing that the case has been finalized.
He said: "The Nigerian process has been up for a very long time. In all eight years of President Muhammadu Buhari, there is no policy memo on anything that has done the zigzag that Nigerian Air has done.
"At least seven times, it came before the Federal Executive Council before finally it was let go.
"Just when everything was set and for the airline to start, domestic Nigerian airline operators went to court and they got an injunction that says that Nigeria Air must not fly. This held up everything until barely a week or two ago."
While praising the minister of aviation for his doggedness in ensuring the airline becomes a reality, Shehu said many Nigerians will benefit from the project.
The post Nigeria Air Plane Arrives Abuja [Video] appeared first on Naija News.
Go to Source
Author: Olugbenga Ige