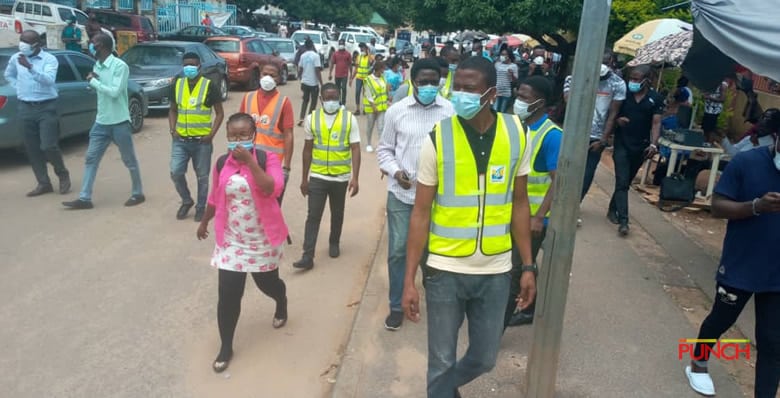 The talks between the Joint Health Workers Union (JOHESU) on strike and the Federal Government have reached an impasse, according to reports.
The negotiation, held at the Federal Ministry of Health, was led by the Minister of Health, Dr Osagie Ehanire.
Dr Obinna Ogbonna, the National Vice Chairman of JOHESU, stated that the union members began an indefinite strike on Thursday to highlight their demands.
JOHESU represents health workers' unions and associations, encompassing a wide range of healthcare professionals.
The health workers are demanding various actions from the government, including approving and implementing the Consolidated Health Salary Structure adjustment, paying omitted and short-changed COVID-19 hazard allowances, recognizing support health workers in the payment of new hazard allowance, and immediate and unconditional payment of withheld salaries of several medical centers, among other things.
On May 9, 2023, JOHESU leadership sent a letter to the Federal Government issuing a 15-day ultimatum due to the government's alleged inconsistencies in negotiating the Consolidated Health Salary Structure adjustment.
Dr Ogbonna in a chat with Punch, mentioned that the Ministry of Health had requested a reconciliation meeting following the strike declaration.
However, he noted that the Minister, who had previously stated that an adjusted CONHESS was unfeasible, presided over the meeting.
Following objections from the union, the Minister agreed to let the Federal Ministry of Labour and Employment mediate the dispute.
The meeting has been postponed until next week, though no specific date has been set, due to the current national atmosphere and ongoing inauguration events.
The ongoing strike is impacting healthcare services across the country. Visits to medical centers revealed overwhelmed departments with patients waiting to be attended to and few locum staff and interns available to mitigate the strike's effects.
Health services at National Hospital, Abuja (NHA), have also been reduced, as doctors, nurses, and temporary staff struggle to meet all patients' needs.
Union leaders and healthcare professionals express empathy for the patients' plight but maintain that the strike is necessary to address long-standing issues and demands.
The post Just In: FG, Striking Health Workers' Meeting Ends In Deadlock appeared first on Naija News.
Go to Source
Author: Enioluwa Adeniyi