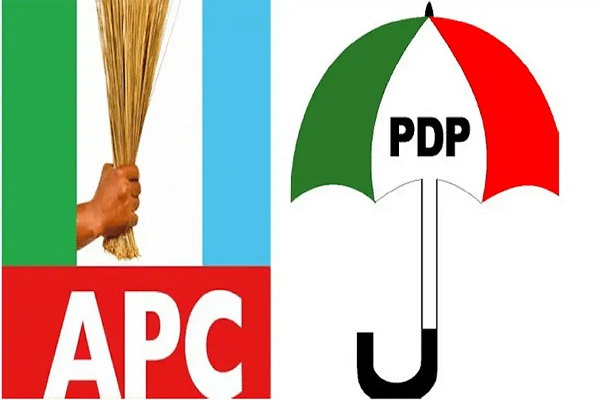 The governorship candidate of the All Progressive Congress (APC) in Ebonyi State, Francis Nwifuru has bagged the endorsement of the state Peoples Democratic Party(PDP) chairman, Tochukwu Okorafor.
The PDP chieftain in a statement issued in Abakaliki, the capital of the state said the power rotation otherwise known as the charter of equity in the State is too fragile to be toyed with.
Therefore, based on that it was only fair to vote for Nwifuru, who is from the Ebonyi North because it's their time to produce a governor.
Naija News reports that this development is coming barely 24 hours before the governorship and state assembly election.
It was gathered that Okorafor, who has been in a conflict with the governorship candidate of the PDP in the state, Ifeanyi Ọdịi pleaded for the people to vote for Nwifuru, instead.
Okorafor submitted that "It is no longer a secret that all the good people of Ebonyi State have now agreed and decided that the power-sharing formula of the state is too fragile to be toyed with and remains the only guarantee for peace and mutual co-existence, and therefore must be sustained.
" It has been generally agreed that it is only fair that Ebonyi North should produce the next governor in the spirit of Equity.
" I hereby lend my voice in calling on the few who are yet to fully grasp the importance of this decision to join hands in ensuring that we do not mortgage the future by subverting the power equation of the state as conceived by our founding fathers.
"It is only fair that Ebonyi north be allowed to give us the next governor. I congratulate in advance, His Excellency, Rt. Hon. Francis Ogbonnaya Nwifuru.
"May God bless Ebonyi State."
He also explained berated Ọdịi saying he has a lot of cases pending in various courts across the country.
The Ebonyi PDP chairman added that "It is on record however that it was Mr Ifeanyi Odii who, after claiming victory in a cancelled primary election, ran to court the following morning to challenge his own victory.
"That was the beginning of all pre-election matters before the courts to which I was never and I am still not a party.
"The voting public deserves to know that the person whom they used to convene a kangaroo State Congress that purportedly hosted the governorship primary which produced Ifeanyi Chukwuma Odii was and remains an imposter totally unknown to the party.
"This is the subject of the matter now pending before the Supreme Court after the Honourable Justice Nyako held that an imposter could not have convened a valid State Congress.
"And since you cannot build something on nothing and expect it to stand, the primary that purportedly held at that Congress and which produced Odii is invalid and of no effect whatsoever.
"Whether now or later, that question must be answered. Then the scam and the scammers will be exposed for whom they truly are.
"For the avoidance of doubt, it bears reiterating that the Peoples Democratic Party has no valid gubernatorial candidate in Ebonyi State. Anyone genuinely hoping to hop on that sunk ship will only blame himself or herself very soon."
This article was originally published on Naija News
Go to Source
Author: Tayo Elegbede