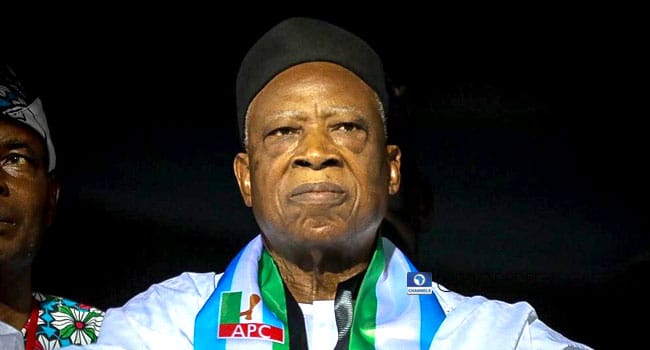 The National Chairman of the All Progressives Congress (APC), Abdullahi Adamu has reacted to the call for a Christian to be selected as the president of the 10th senate.
There have been calls to appoint a Christian following the Muslim-Muslim ticket of the ruling party.
Adamu, in an interview with Daily Trust, when asked if there is a possibility of a Muslim Senate President emerging, said it is not for him to determine.
He, however, noted that the party will be as equitable as possible and sensitive to the sentiments of Nigerians.
Adamu said, "That is not for me to determine. But I want to assure you that we will be as equitable as we can and sensitive to the sentiments of Nigerians. It is not for me to decide at this stage. Mine is to lead the party to be fair-minded and equitable."
Why We Are Delaying Zoning National Assembly Leadership
Adamu in the interview also spoke on why the APC is delaying the zoning of leadership positions in the National Assembly.
According to Adamu, the inauguration of the elected lawmakers is in June, so there is no need to rush things, however, the ruling party is mindful of experiencing the leadership issue that happened in the 8th Assembly.
Adamu said, "during the last meeting we had with the National Assembly members-elect, we made it very clear that we need to sit down after the governorship election to discuss the issue of National Assembly leadership.
"There is nothing the president could do without recourse to the National Assembly. We suffered in the 8th Senate because some people beat the gun and we had a whole tenure in jeopardy. There was no peace between the executive and the legislature and that affected governance. But somehow, we managed to meander through the crisis-ridden National Assembly, and that happened because of selfishness.
"Some people just believe they want to lead the National Assembly. I don't see anything wrong with having ambition, but unguarded ambition that is loaded with a spirit of betrayal and abuse of trust.
"The key players in the 8th Senate said there was no clear directive from the president as regards zoning the leadership of the parliament, hence what happened. This is because they beat the gun.
"Now, lawmakers-elect are already grouping, and there is fear that if zoning is not released on time…
"But what do you call zoning released on time? The election is still on, and the inauguration of the National Assembly is sometime in the second week of June. So, why the hurry? There is nothing wrong with you consulting or presenting yourself to your colleagues; but why beat the gun?
"We don't want the 8th Senate experience to happen this time. It was a very bitter lesson. At the last meeting with the lawmakers-elect, we told them very clearly to wait for the president-elect and the leadership of the platform on which they were elected.
"If there's the need to link up with other parties to increase our membership in the National Assembly, the party will do so. But for God's sake, don't beat the gun. We have a very delicate situation on our hands, and we have to be very careful how we handle it."
This article was originally published on Naija News
Go to Source
Author: Enioluwa Adeniyi