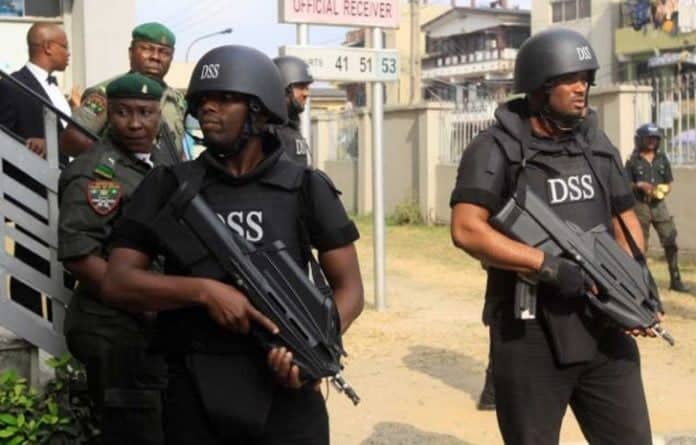 There was uproar in Anambra State on Wednesday through Thursday over the killing of an innocent man allegedly by an official of the Department of State Services (DSS).
Naija News learnt that security agency officials were hunting a criminal suspect who ran into the victim's residence in Ogidi, Idemili North Local Government Area of Anambra State.
It was gathered that the deceased's wife had just delivered a baby, and the man was preparing to go and visit his wife and the baby when the tragic incident caught up with him.
An eyewitness quoted by Vanguard told reporters that the security operatives were on the trail of a fleeing cultist popularly known as "China", who was also said to be a notorious criminal in the area.
Unfortunately, during his chase, a bullet from the DSS operatives allegedly hit the newborn baby's father.
Naija News understands that the incident has caused protests in the area as youths reportedly took the corpse to the local government headquarters, demanding to see the local government chairman.
They blocked the entrance gate to the local government secretariat with the corpse, insisting they must see the chairman.
"An innocent man was shot dead by SSS this morning. The security operatives were looking for a cultist who ran into the deceased's compound.
"The man just woke up, and they were about to pray, but he excused himself to urinate outside, and the next thing was a gunshot which killed him instantly," an eyewitness told newsmen.
He added: "We heard the security operatives were claiming they thought it was the man they were chasing that they shot. The dead man didn't even know someone ran into his compound".
"He just came out to urinate before going back to join his family members for the morning prayers. He had also planned of going to see his wife, who was put to bed early this morning. He had not even seen his newborn child. He is himself an only son too."
Naija News learnt that the protesters were barred from gaining entrance into the local government secretariat as soldiers blocked the gate immediately, stopping everybody from entering.
Confirming the incident, the state police spokesman, DSP Tochukwu Ikenga, told the news platform that the police had restored law and order.
"The deputy commissioner of Police in charge of operations led operatives to the Ogidi community, following a protest by the community members alleging a member of the security operatives shot one of the indigenes in the community.
"Meanwhile, law and order have been restored in the area, and the suspect has been arrested with the arm recovered. Further details shall be communicated, please," Ikenga added.
The DSS, however, has denied killing anybody in the area.
State Director of the Agency, Enock Bawa, in a press statement on Thursday, said it was local vigilante operatives that did the shooting and not operatives of the DSS as claimed.
This article was originally published on Naija News
Go to Source
Author: Richard Ogunsile