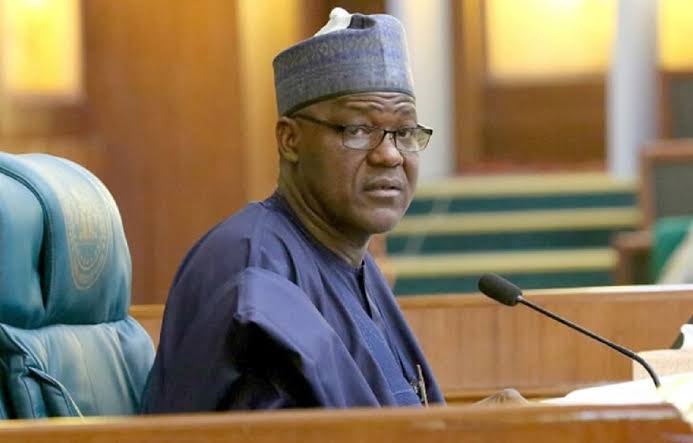 Tension seems to be rising from two camps of the former Speaker of the House of Representatives, Yakubu Dogara over his current political stands.
Naija News earlier reported that the lawmaker on Wednesday disclosed that he is supporting candidates based on political party for now.
According to him for now he neither belongs to the All Progressives Congress (APC) nor to the Peoples Democratic Party (PDP) or any party for now.
Dogara, who boycotted the APC before its presidential primary because of the party's Muslim-Muslim ticket submitted that what he is only doing now is supporting supports candidates across party lines for elective positions in the 2023 general elections.
However, Naija News gathered that while one of the groups of Dogara's former legislative aides has slammed him and dissociated themselves from his political stance, the other faction of aides has pledged their loyalty no matter what his stance is.
The first group of former aides had announced that they deserted him because of his political antics which according to them is heating the polity in the Bauchi State, especially over the forthcoming elections.
But the loyal group which is led by one Yusuf Yau Das has berated the first group for disassociating themselves from their principal.
The Das-led group of aides also defended their principal concerning the allegation levelled against him by a former aide to the Bauchi State governor, Barrister Kefas Musa Magaji.
Das in a statement slammed Magaji saying feel they should put the record straight.
According to him, the pains of losing an election should not be so"it was not surprising what we heard from Barrister Kefas Musa Magaji yesterday, 14th March 2023 in a Press Conference," adding that those allegations were unfounded lies from the blues coming from someone nursing surprise any sensible person.
"The press conference by the so-called concerned Zaar and claimed ethnic groups of Tafawa Balewa and Bogoro Local Government Areas of Bauchi State was informed by the tears of Governor Bala after a series of failed media propaganda of what happened in his hometown, Duguri.
"On that premise, no segment of our community and the state should take those monumental lies with a pinch of salt.
"It is pertinent we ask them the following questions: Where were they when Governor Bala Mohammed constructed thousands of housing units and refused to allocate a single unit to Tafawa Balewa and Bogoro Local Governments?
" Why didn't they fight for Zaar Land to get even a single unit? Where was Kefas Magaji when Bala Mohammed was busy developing the Bununu area while no single project was allocated to Tafawa Balewa town and Saghn Gami land? Did he ever fight for any projects anywhere near Zaar land, and if he did, where are the projects? Let them name the projects
"Ask them to tell Zaar people where Bala Mohammed got the billions he used to build the biggest private residence in Nigeria in Bauchi at the time he failed and refused to pay workers salaries and pensions since 2019. Ask them to tell us if the reason advanced by the Bauchi Emirate Council for removing Wazirin Bauchi from his office is not disloyal to the governor. Further, ask where in any religious book is a father obligated to be loyal to his son.
"What are the consequences of dishonouring a father in the scriptures and if it's a curse why would any reasonable person especially someone who is either a Christian or Muslim be engaged in leading a campaign to enthrone a cursed person as a leader on our people?
"Ask them to tell the people where Bala Mohammed got the billions he spent in his failed run for the Presidency when workers and teachers were dying because he refused to pay their salaries and promotion arrears.
" Ask Kefas Magaji and Iliya Habila to tell Zaarland what happened to LGA funds under their watch as chairmen. Can they, in all honesty, render an account to our people?"
He queried that "Are they not driven by fear of Rt Hon Dogara's assertion that anyone who has stolen LGA funds or state funds would be made to face the music when Air Marshall Sadiq Abubakar becomes governor? Why are they lying to our people?
"We call our people to ignore these characters that are known serial liars and can do anything to defend the crumbs they pick from Kaura's table against the larger interest of our people which Kaura is busy raping.
 "They failed to defend Zaar's interest as highlighted above but they are busy defending Kaura's many lies and deceit because they are Kaura's co-drifters having given him unfettered access to our LGA funds and are now dead-scared of any change of government that will expose their crime against our people.

" We have the records of their sleaze while serving as Chairmen of Tafawa Balewa and Bogoro LGAs and thankfully it is before the EFCC too. We urged our people to ignore these characters who are prepared to sell our rights for a morsel of the meal. As smart people, we must look at the direction Bauchi people are going and join in so that we don't waste our votes.
"As a people, we urge our Zaar brothers/sisters to invest our votes rather than waste them on Kaura whose ambition is already doomed if signals from other LGAs in Bauchi State are anything to go by. Let us invest our votes in Air Marshal Sadiq, the man who brought Air force University to Bauchi state and more specifically Tafawa Balewa.
"Regarding the issue of bringing Kauran Bauchi into Office in 2019, it is an open secret that Rt. Hon Yakubu Dogara rallied support for him in numerous ways from the Fund Raisers in Abuja to the campaign and negotiations with other aspirants alongside other political gladiators in 2019 such as Baba Waziri, Sen Nazif Gamawa, Sen Isah Hamma, Sen Abdul Ningi, Alh Yayale, Hon Yakubu Wowo, alongside other illustrious sons of Bauchi State.
"It is on record that Rt. Hon. Yakubu Dogra was given 51% of the party structure in PDP then but graciously decided to cast his weight behind Kaura eventually metro roads would eventually be constructed when Air Marshall becomes the Governor.
"It is unfortunate for a lawyer of Bar Kefas Magaji's standing to state without concrete evidence that Rt. Hon Dogara has built or bought houses overseas. Equally, he should name the neighbour who was required to sell his land instead of any assistance from Rt. Hon Yakubu Dogara."
This article was originally published on Naija News
Go to Source
Author: Tayo Elegbede